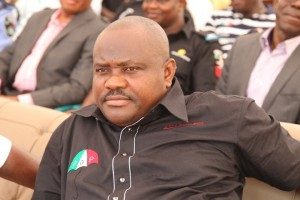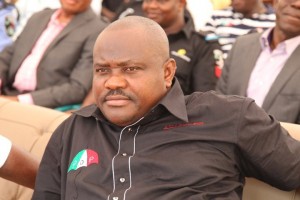 Governor Nyesom Wike has slammed his Edo counterpart, Adams Oshiomhole for saying that he planned to disrupt the postponed Edo Election.
Oshiomhole had earlier alleged that the Peoples Democratic Party (PDP) in Edo and some Governors in the Niger Delta had hired 8,000 militants to cause violence during the polls.
The Rivers Governor also said neither him nor the Delta state Governor, Ifeanyi Okowa hired any militant to disrupt the elections in Edo.
Wike said he was shocked by the comment because he met the Edo Governor some hours before he made the allegations, at the airport.
He said "Oshiomhole even cornered me and said ' don't mind these people, they don't know that we meet and talk."
The Rivers Governor also said the Edo people have rejected the All Progressives Congress (APC), and Oshiomhole can't handle the reality.
Wike said the report that he gave the Edo PDP governorship candidate, Pastor Osagie Ize-Iyamu, N2b, is false.
He said "If Oshiomhole has lost the confidence of his people, he should not blame me. He brought the President and 10 APC Governors and he was not satisfied. Only because two PDP governors visited Edo State, Oshiomole is panicking.
"Oshiomhole at his age should stop dramatising and telling lies. What will his children say when they see him behave like that".
"If you cannot win election, you cannot win election no matter the number of security reports that you write.
"Oshiomhole doesnt know when to stop lying. Why do you think that you will continue to deceive the people. This was the same man who praised former President Goodluck Jonathan for promoting free and fair election, one man, one vote which saw Oshiomhole win a second term. Today in his notorious inconsistency, anywhere Oshiomhole goes, he insults the former President. When President Buhari leaves office, Oshiomole will do the same to him."
Adding that "The Comrade in Oshiomhole has died long ago. There is no Comrade in him. From Khaki, he is now wearing costly imported Safari Suits."
Speaking on his visit to Edo for the PDP campaign rally, Wike said "What I told Edo people that has set Oshiomhole in panic mode is that they should not trust INEC or the security agencies because they will never be neutral. I still repeat that the Edo people must remain vigilant so that they their votes will count"
Three ex-militants leaders were arrested by the Edo state Police command after loaded arms were found on them in Benin City.