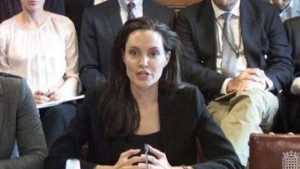 An aftermath of the publicised divorce between Hollywood stars, Brad Pitt and Angelina Jolie has been a separation of their wax figures by popular museum, Madame Tussauds.
The famous wax museum, in reaction to the couple's shocking marriage collapse, sought to quickly replicate the split by separating their wax statues.
'Following the news that has shocked celebrity watchers worldwide, we can confirm we have separated Brad Pitt and Angelina Jolie's figures,' it announced with a tweet showing a photo of the two wax figures standing apart.
'We reacted quickly to yesterday's news of the separation of Angelina Jolie and Brad Pitt and their plans to divorce by mirroring the separation in the attraction,' a Madame Tussauds spokesperson said. 'The couple's wax figures, which were launched in 2013, have been split up and are now featured at a respectful distance from each other.'
Quite a statement…