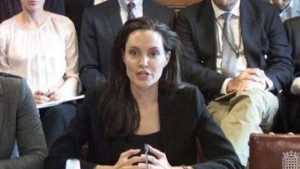 You won't believe this. And you should not.
But sourceless sources are telling us that Jennifer Aniston is ready to accept her man back, after his wife of two years and partner of 10 years Angelina Jolie kicked him out the back door.
It doesn't matter that he ran out of their marriage many years ago, into Jolie's luscious lips. It doesn't even matter that Aniston married last year having since moved on, putting Brangelina behind her.
What matters, in the silly imagination of our sauce, is that Jennifer's pastor called her last night, sharing a vision he had that 'dead bones shall rise again.
'The pastors told her to take her man back'
But what will happen to her current husband?
'Well she can have the both of them, as compensation for losing her man in the first place'. I couldn't help but laugh out loud.
Brad Pitt, who has reportedly ordered 100 trailers of tissue paper to wipe away his tears, refused to comment for this piece. Angelina was of course busy with her lawyer. Jennifer? She was still in her pastor's office as at the timing of filing this report.
'Brad Pitt should be grateful she's taking him back, after what he did to her. I just hope her husband understands and lets him at least sleep on the couch', one passerby whom we didn't ask to comment, told us last night.
Believe this celeb-fi at your own risk, you hear?!