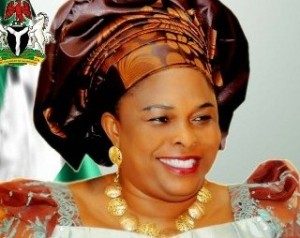 The EFCC might be probing former First Lady, Patience Jonathan following her admission to owning five Skye Bank accounts with billions of Naira.
Patience Jonathan admitted owning the account after it was reportedly frozen by the Economic and Financial Crimes Commission in July 2016 following a money laundering case against a former Special Adviser on Domestic Affairs to ex-President Jonathan, Waripamowei Dudafa.
In a recent report by Punch Newspaper, an EFCC source revealed that the vocal first lady wasn't the initial target of the investigation but after her admittance to owning the accounts, she has got questions to answer.
The source further hinted that Patience Jonathan was found to be the sole signatory to the accounts and also has a special card which she used in making withdrawals across the world.
Patience, the report alleged, had a sum of $5m balance in one of the accounts which was opened in her name.
Meanwhile, Chairman, Presidential Advisory Committee Against Corruption, Prof. Itse Sagay has urged the EFCC to probe the ex-President's wife.
Prof. Sagay stressed that Mrs Jonathan must account for the source of the funds since she has claimed ownership and was a civil servant until her hubby became the President.
"The EFCC and ICPC Act have provisions under which they can ask the court to freeze the account of a person if a person's capacity to earn is below the amount of money that the person appears to have.
"If she is claiming the money belongs to her, she has put herself in a position where she must explain how she earned it," Sagay said.
While the ex-First Lady's lawyers are still battling Skye Bank in a freshly instituted N200m lawsuit, there are no words or explanation for the source of the funds.