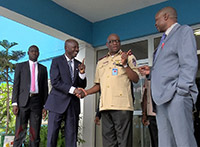 The Federal Road Safety Commission (FRSC) Corps Marshal, Boboye Oyeyemi, has sought collaboration with the Economic and Financial Crimes Commission (EFCC) as part of efforts to enhance the activities of both agencies.
He said the EFCC could track an individual who is suspected to have been involved in any fraudulent activity with his or her driver's licence.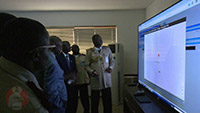 Oyeyemi made the remark while receiving a delegation of the EFCC led by its acting Chairman, Ibrahim Magu, at the FRSC headquarters in Abuja on Thursday, September 15, 2016.
Oyeyemi, who said that the FRSC provides services to other law enforcement agencies to aid their operations, further described Information Vehicle Portal as a necessary tool to enhance the activities of the EFCC.
''There is need to train and certify staff of the EFCC Transport Unit/Operations before they can drive any vehicle of the Commission. Also, there is need to improve on the medium of exchange of intelligence reports between EFCC and FRSC, '' he added.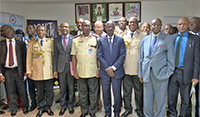 While conducting the EFCC's delegation on a tour of the FRSC's facilities, the Corps Marshall also urged Magu to involve the FRSC more in the Commission's programmes.
In his remark, Magu hailed Oyeyemi for his commitment to continuously maintain sanity on the Nigerian roads, while emphasizing the need for inter-agency collaboration.
He said:  "I am impressed with what I have seen. There is need to maintain inter-agency collaboration. We cannot do anything alone, as we do not have a monopoly of knowledge. Also, we appreciate the fact that  whatever we do affects everybody.
''It is in the interest of service to the nation that we have come here today to partner with you.  If there is any area the FRSC needs the Commission to build on, don't hesitate to inform us.''
[EFCC]