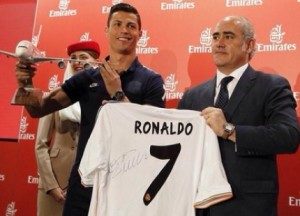 Cristiano Ronaldo says Sporting Lisbon will always be in his heart but he remains determined to end his career at Real Madrid.
Ronaldo, 31, faced his boyhood club Sporting on Wednesday as Real left it late to stage a comeback in a 2-1 Champions League victory.
Of his decision not to celebrate his 89th-minute goal, the Portugal international said: "It was against the team where I learned my trade, the club has a place in my heart and I have a lot of respect for them, that's why I couldn't celebrate it."
Asked about his future, Ronaldo said he was flattered by Sporting Lisbon president Bruno de Carvalho saying he wants the Madrid star to end his playing career with the Portuguese club.
Ronaldo said: "For me it's an honour that people still have affection for me. I feel lucky, but I'm great at Madrid and I want to finish here, because it's the club that's in my heart right now."
Of Real's performance against Sporting at the Bernabeu, Ronaldo added: "We were a bit flat at the start, but such is football and such is Real Madrid and the comebacks are part of this mythical stadium.
"It was an important goal just as the game was about to finish. I wasn't surprised by the Sporting performance, they wanted to put on a good display and make life difficult for us.
"I hope to always be able to offer something at Real Madrid with good performances and goals. I always want to help out."