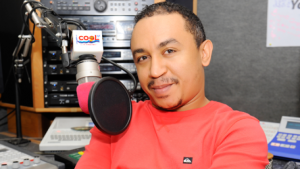 You would think that with the controversies on-air-personality Freeze found himself in the last few months he would be tamed. Think again.
During Pulse's exclusive interview with Freeze on August 30, 2016, he said he isn't afraid to be politically incorrect.
"I'm never ever going to be politically correct. I am going to try not to be insulting. I come from the two most insulting tribes in the world" said Freeze.
The Cool FM OAP, however, admitted that he would try to be more diplomatic in future.
"What I am going to work on is my diplomacy, not my political correctness. There is no way I am going to sit down and see someone say our President's wife did not go to the US when we have pictures of her going to the US and now be politically correct."
He further said "I will not insult. I will try not to let the Yoruba and Romanian side in me come out. I will tame those things down but the truth is what I am here to speak. Whatever you hear from me is the truth."
He grabbed headlines last month when posted an old photo of him with Basketmouth's wife.
In previous clips Freeze spoke about the rumour of him getting sacked by Cool FM and the origin of his beef with Basketmouth.