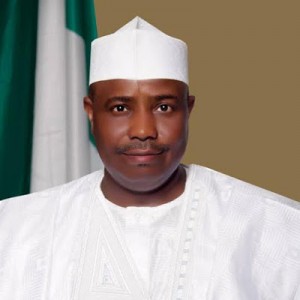 Governor Aminu Tambuwal of Sokoto state has called on the Federal Government to review the revenue allocation formula to benefit states and local governments.
He said "The state and the local governments are the closest tiers of government to the people, unfortunately, they are getting less than the Federal Government from the Federation Account.
"The ugly trend should be reversed in favour of states and local governments to enable them meet the overwhelming demands of the grassroots."
Tambuwal said this when members of the Sokoto Chamber of Commerce, Industries, Mines and Agriculture; Association of Resident Communities and Coalition of Non-Governmental Organizations, paid him a visit during the Sallah celebrations.
He also asked those aggrieved in one way or the other to adopt dialogue as a tool to resolve their grievances.
The former Speaker of the House of Representatives, who reiterated his believe in Nigeria, said the country's unity is not negotiable.
He added that "Dialogue is also the most potent tool to resolve all problems, anywhere and at anytime.
"There are really challenges in Nigeria, and it is not peculiar to the nation, and these challenges are surmountable."
Tambuwal also rejected calls for the geographical restructuring of Nigeria and promised non-indigenes of the state that they will not be discriminated in anyway.
According to Premium Times, he said the non-indigenes are partners in the development plan of Sokoto state.
Tambuwal had recently blamed past administrations for the current economic state in Nigeria.
Aminu Tambuwal defected from the Peoples Democratic Party (PDP) to the All Progressives Congress (APC) on October 28, 2014.