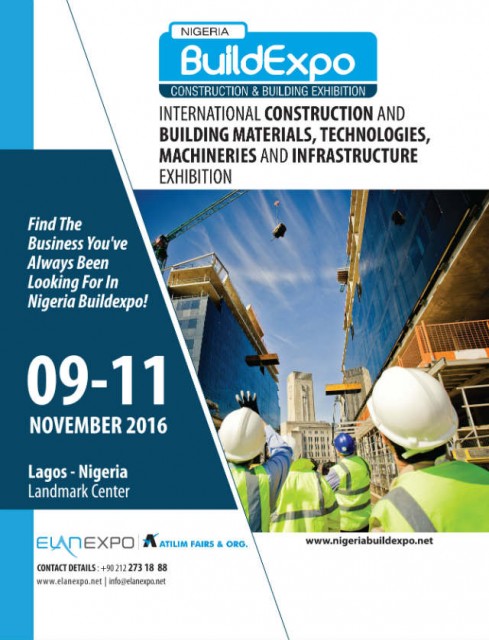 NIGERIA BUILDEXPO BRINGS TOGETHER THE MOST IMPORTANT COMPANIES IN CONSTRUCTION AND BUILDING MATERIALS SECTORS IN AFRICA'S LARGEST AND FASTEST GROWING ECONOMY LAGOS, NIGERIA.
International Construction, Building materials, technologies, machineries and infrastructure exhibition, NIGERIA BUILDEXPO will be held between 09-11 November 2016 at Landmark Center in Lagos, Nigeria.
Nigeria Build Expo, will be held in Lagos Landmark Centre by the cooperation of Elan Expo (http://www.elanexpo.net) and Atılım Fairs, which are the international fair organization companies  perform over 30 exhibitions in 9 different countries every year.
Nigeria Build Expo, will bring together important building professionals of Nigeria, international manufacturers around the world, services and technologies. There has been a rapid growth in the last 20 years in the construction industry and important projects of Nigeria. NIGERIA BUILDEXPO was organized taking into consideration the fact that the growing construction and building materials, machineries and infrastructure services needs in Nigeria; and it aims to bring together construction companies and project developers with products and services designed with the latest technology.
EXHIBITORS FROM 9  DIFFERENT COUNTRIES WILL EXHIBIT THEIR PRODUCTS AND SERVICES
Nigeria Buildexpo as an international and professional business platform, will bring together visitors with pioneer exhibitors from 9 different countries as U.A.E, China, Oman, Thailand, South Africa, Kuwait, Libya, Portugal and Turkey. Nigeria Buildexpo provides its visitors to visit the most important international companies at the same time, and the chance of making comparison between products and services.
ALL CONSTRUCTION AND BUILDING MATERIALS NEEDED IN NIGERIA'S INDUSTRY, ARE COMING TO LAGOS
Nigeria Buildexpo is already giving signals that it would be eagerly anticipated for each year. Many products and services such as Construction Tools, Equipment and Machinery; Iron and Steel Products; Pipes and Plumbing; Infrastructure Materials; Doors, Windows, Blinds, Roller and Glass Systems; Ceiling and Roofing, Flooring, Wall Coverings; Heating, Refrigeration, Air Conditioning, Ventilation and Chimney Systems will be offered to construction sector professionals and project developers.
Nigeria Buildexpo, will be open for 3 days between 09-11 November 2016, offers its visitors to chance to benefit from wholesale and retail purchases at the special fair campaigns and gifts; to examine the latest products and technologies in the sector closely; to have a chance  to make B2B meetings with sector leaders.
NIGERIA BUILD EXPO 2016
International Construction, Building Materials, Technologies, Machineries and Infrastructure Exhibition
09 – 11 November 2016
Landmark Centre
Lagos, Nigeria
http://www.nigeriabuildexpo.net
info@nigeriabuildexpo.net
+90 212 273 18 88