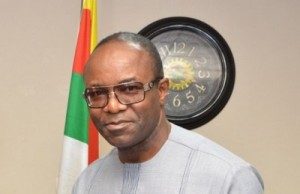 The Minister of State for Petroleum, Dr Ibe Kachukwu, has assured Nigerians of the commitment of President Muhammadu Buhari to build a solid structure for the country.
Kachukwu stated this at the 2016 Convocation of the Petroleum Training Institute (PTI), Effurun, Delta, on Saturday.
He said that there was no doubt that the country was passing through a difficult phase due to dwindling oil revenue but that Buhari was working hard to lay a sustainable foundation for the country.
"I must say that Mr President is putting in place solid foundation such that if the country gets out of this current situation, it will never get back to it.
"This might not be immediate but please bear with us, for we are working round the clock to find a lasting solution", the minister said.
He said Nigerians have the human capacity to do well and urged every institution, individuals and family to have a change of attitude in what they do to ensure effective management of available resources.
According to Kachukwu, the consumption pattern of the people needs to change.
He commended the institute for proper management of funds and urged them to evolve ideas that could make the institution self reliant.
The minister pledged to liaise with relevant agencies to ensure that PTI remained relevant in building the manpower needs of the oil and gas industry in the country.
He assured that government would provide the enabling environment for Nigerians to put their intellect and ingenuity to bear.
The minister advised the graduands not to bother looking for work but utilise their skills to create jobs for themselves and to employ others.
Kachukwu announced automatic employment for the best three Higher National Diploma graduating students of the institution.
Prof. Sunny Iyuke, the Principal, PTI, said the institution, estab lished by Act No. 37 of 1972, continued to make giant strides in human capital development in the oil and gas industry.
He said that the institution would in collaboration with University of South Africa commence a post graduate Diploma programe relevant to the oil and gas sector.