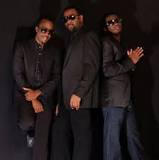 We all love amazing comebacks, right? The Nigerian music industry is one that stays buzzing with fresh talent every now and then.
However, too many artistes sound alike and this leaves me desiring the return of some amazing talents who have been missing in action for the past few years.
The trio of Shifi, Tunde and Zeal were simply amazing in the early 2000's. Those guys can really sing. The young men took Nigeria by storm from their Abuja base in 2006 with the release of their debut album, "Expressions". They made us all want to fall in love over and over again.
The group really expressed itself on that debut album with well written and perfectly delivered love songs. The album had such a clear definition and still sounds fresh till date; such a timeless complilation. Songs like 'Olufunmi', 'Call My Name', 'Runaway' and 'Imagine That' can not be forgotten in a hurry. Even when they tweaked their sound a bit by releasing 'Iya Basira', they still came correct.
Their sophomore album, "Back and Better" released in 2008 was underwhelming especially when compared to the first. The most notable song on the album was 'Four Years'
In December 2012, Tunde Akinsanmi went solo. Shifi and Zeal have managed to stay together but we have not really heard from them except for one or two rare appearances at events.
Now that one of the only surviving groups in Nigeria, P-Square is threatening to split, I guess it could be the perfect time for the resurgence of Nigeria's 'Boyz 2 Men', Styl Plus.