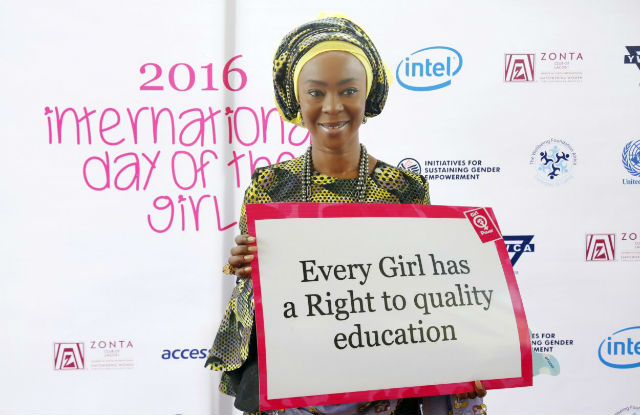 In marking the 5th International Day of the Girl Child, the Wellbeing Foundation Africa Founder-President HE Toyin Saraki said:  "Today, we have had the privilege of hearing 2500 individual voices, 2500 dreams, and 2500 life stories from girls across hundreds of backgrounds at our three Day Of The Girl workshops held across Nigeria, in Kwara, Abuja and Lagos States, in an incredibly diverse and energising  universality to incubate and activate the potential of girls  – and the world needs more.
These 2500 girls, and their voices, lives and aspirations are the lucky ones, for they are pursuing their education in our nation, where an estimated 10.6 million children remain out of school, as invisible children.
Entire societies must elevate the status of girls, a demographic who have been under-resourced and under-valued for too long.  But this recognition is growing, and the world must be ready for them to take their rightful place on the global stage.  They must be counted, acknowledged, accounted for, and they must be heard."
Mrs. Saraki continued: "My Foundation and I commit today to partnering with government at every tier in giving every Nigerian child a health record, with digital database in the next 5 years. The more data there is, the less likely the girl and boy child will be invisible. Data will let us measure and track our progress as a country."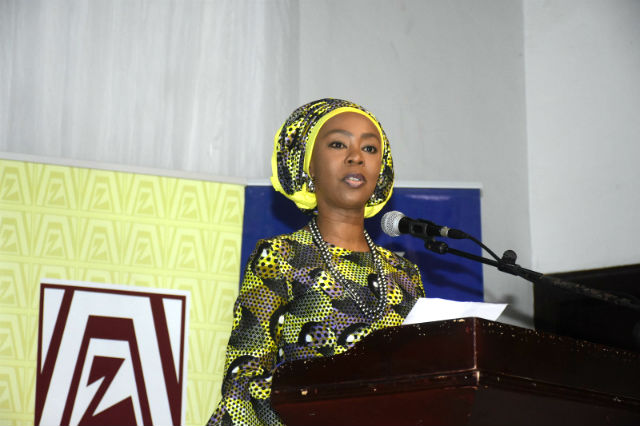 The Foundation launched its premier MamaCare Adolescent Skills and Drills Handbook yesterday at the International Day of the Girl Child event which was held at the Shell Hall, Muson Center, Onikan – Lagos State, Nigeria.  The event brought together 872 girls from 31 public and private secondary schools in Lagos to celebrate the day and they all received copies of the handbook. The Foundation also held parallel Day Of The Girl PSHE Skills And Drills workshops sessions for 1628 adolescent girls at Queen Elizabeth School Ilorin, Kwara State, and Dakwa Community School in Abuja, simultaneously.
The Wellbeing Foundation Africa's new adolescent handbook is a simple and unique guide for girls from 13-19 years of age to better understand their bodies and rights, from nutrition and menstrual hygiene to financial inclusion and respectful relationships, guided by the 7 Guiding Principles of The Girl Declaration. The Foundation created the handbook to pioneer a comprehensive personal, social and health education which the national education system does not yet support.
HE Toyin Saraki opened the event with a keynote speech on the 7 Points of Invisibility of a girl child, and the social determinants that make a girl child remain invisible.  She noted that the global community should ensure that all girls are accounted and counted, and that gender data collection needs to be improved, so that Nigeria and countries alike can measure and track their real progress and development of their citizens.
Mrs Saraki who shared her life's experiences with the girls noted: "Being a girl is not a disease.  Not a curse.  Not a burden.  It is a privilege.  It is an honour bestowed not on the weakest, but the strongest, of our species.  We are the ones that bring new life to this world. Sanctify our shared humanity, and protect the very future dreams that every mother and father has held for their children since the dawn of time."
Mrs. Toyin Saraki said: "Today we have served 2500 individual voices, dreams, backgrounds and life stories within one gender in our 3 events. The Foundation held the events to elevate the status of girls as an under resourced demographic as their presence is growing and the world must be ready for them to take their rightful place on the global stage."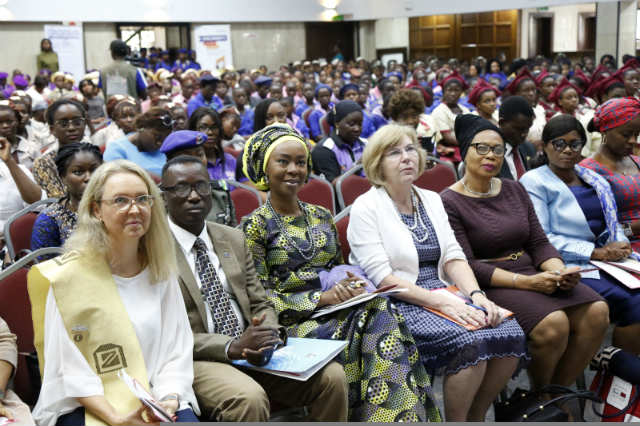 Coinciding with global stakeholders actions for girls, the launch of the Lancet's Maternal Health Series Report in London, and the launch of Plan International's new because I am a Girl report: 'Counting the Invisible'.  Other girl champions such as First Lady Michelle Obama, have also highlighted the importance of menstrual hygiene and how it can affect girls' productivity in schools.
The Wellbeing Foundation Africa also launched yesterday their call to action to improve the world for the girl child, based upon the original principles from The Girl Declaration.
WBFA1. Let the voice of the girl child be heard.  Involve girls in the design and implementation of services and programmes that affect her wellbeing
WBFA2. All girls' lives matter. Every girl should be counted and accounted for. No girl should be left behind!
WBFA3. Invest in the girl child. Support programmes and services that improve her health and wellbeing by allocating girl-oriented resources across all sectors
WBFA4. Act now! Help the girl child transit smoothly from adolescence to adulthood. Equip her with information and empower her.
WBFA5. Design policies and programmes that are inclusive for the girl child's safety, health and wellbeing wherever she may be.
WBFA6. Protect the girl child from discrimination, inhibition and harmful practises that affect her health and wellbeing. Enforce laws that can achieve these.
WBFA7. Respect the girl child.  Secure her rights in conflicts and adverse situations. Strengthen policies and framework that protects her rights and give her access to justice.
Signed: Communications
The Wellbeing Foundation Africa
Email: communications@wellbeingfoundationnig.org
Web: www.wbfafrica.org