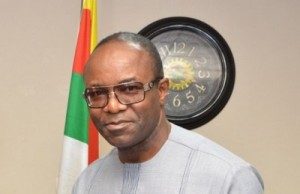 Dr. Ibe Kachikwu has said that the Federal Government is still negotiating with militants in the Niger Delta.
Kachikwu, the Minister of State for Petroleum also said that President Muhammadu Buhari is supportive of the negotiations.
The minister made the comments during an interview at the end of the Convocation Ceremony of the Petroleum Training Institute (PTI) in Delta state on Saturday, October 8.
"The dialogue with the militants has not collapsed, I have laid that process and the president is very supporting of that process. But what the president does not want to do is to put in place same model that failed after four months and militants are back to the creeks," he said according to Leadership.
"We are looking at a long term model and I have presented to Mr President a road-map and it encompasses short, long term solutions, engagement and inclusiveness of the communities.
"We absolutely believe that the Niger Delta is key to the country, they have contributed so much in very many ways but the society has failed them. And I use the word, society, not necessarily government because if you look at what has been provided over the years, it's a lot and some of them have not got it right for certain reasons like corruption at different levels.
The FG had earlier confirmed entering into negotiations with the militants in a bid to ensure peace in the restive region.