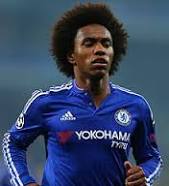 Just after helping Brazil to a 2-0 win at Venezuela in a 2018 FIFA World Cup qualifier, Chelsea midfielder Willian has been hit with the death of his mother.
Willian's mum died at the Syrian-Lebanese hospital after battling a brain tumour for over two and half years.
The 57-year-old had undergone five operations and received chemotherapy before losing the battle to cancer.
Willian took to his Instagram to share a photo of him and his mum, writing a poem as a tribute to her.
The 28-year-old midfielder will miss Chelsea's Premier League clash with Leicester City on Saturday, October 15 as he has been granted compassionate leave.
"All of us at Chelsea Football Club are sending our love and deepest condolences to Willian and his family after the passing of his mother. We are thinking of you Willian," the Premier League club said in a statement.
Willian's mother will be buried on Thursday afternoon in the Ribeirao Pires district of Sao Paulo.