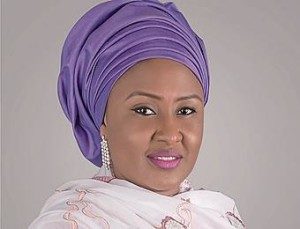 The Wife of the President, Mrs Aisha Buhari, has called on women in leadership positions to be role models for younger generation of women leaders to achieve full inclusion of women.
Buhari said this in Abuja at the third annual conference organised by SHE Forum Africa with the theme: Regroup, Reboot and Remove the mask.
Aisha Buhari was represented at the conference by Dr Toyin Saraki, wife of the Senate President.
She said that women, including those in leadership positions, needed to come together to map out concrete plans on how to promote gender equality.
Buhari said that women also needed to work towards promoting health, safety, education and entrepreneurship for people in the work place, market and rural communities.
"As women and mothers of the nation, the faith of the next generation of both girls and boys occupies much of my thinking.
"To achieve gender inclusion, the world must break up and pay attention to the rights and opportunities of all human beings to reach and live up to their full potentials," Buhari added.
She urged governments at the local and international levels, private and public organisations as well as individuals to work towards the realisation of sustainable community development.
She said that such development would enhance empowerment of women, including the decision making process of women in the society.
According to Buhari, this will address the undeniable vices and social norms that make women and girls to be treated poorly than men and boys.
She also urged business owners, civil society groups and institutions to proffer solutions to inequality in order to promote creative solutions and systemic change in the society.
Mrs Bisi Adeleye-Fayemi, a Gender and Development Specialist, said there was need for Nigerian women to regroup, reboot and remove the mask because Nigeria was at war.
"There is a war going on in Nigeria and the rights of women are greatly affected.
"Women are dying daily due to maternal mortality, women are being kidnapped and one out of three women experience some form of violence in her lifetime.
"Poverty, exclusion and abuse are things that have almost been normalised in our country.''
Fayemi said Nigeria has been featured badly in the global gender economic measures and called on women to take their rightful place in the economy.