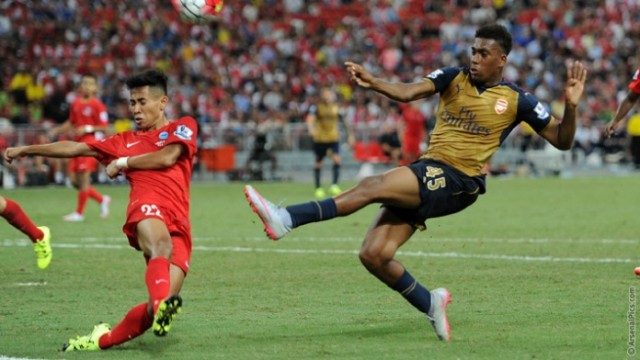 Alex Iwobi was exceptional for Arsenal at the beginning of the 2016/2017 season, starring on the left of an Arsenal front three that were scoring goals for fun.
His nimble feet and incisive passing kept Arsenal fluid and dangerous, he even got praise from Alex Ferguson. "I'm impressed with the young boy Alex Iwobi," Ferguson said in an interview with German magazine, Kicker.
He, however, lost his place following a series of bad results and found himself coming off the bench as the season waned.
Iwobi's loss of form came along with a dramatic decline of Arsenal which saw their Premier League title collapse and Champions League exit after embarrassing defeats to Bayern Munich.
21-year-old looked inexperienced, showing that he wasn't yet built for the rigorous challenge of a title run-in.
He started Arsenal's 5-2 win over Benfica in their first game of the annual Emirates Cup and although he ended up with a goal to his name, Iwobi wasn't impressive for Arsenal on the day before he was subbed off in the 72nd minute.
His passes were off, he couldn't hold on to the ball and didn't look physically ready for next season.
His goal came in the 70th minute, lashing to an Olivier Giroud lay-off to fire home.