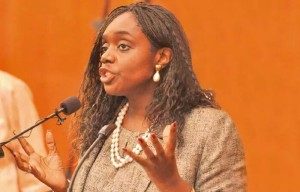 The ederal Government headed by Mrs. Kemi Adeosun has contradicted the Minister's comment that Nigeria cannot borrow anymore due to its rising debt profile.
Adeosun had on Monday, July 10, said that the Federal Government cannot afford to any longer to fund its budget, adding that it should instead raise money internally.
"We cannot borrow anymore, we just have to generate funds domestically to fund our budget, and mobilise revenue to fund the necessary budget increase," Adeosun had said.
But in a statement issued on Thursday, July 13, by the ministry's Director of Information, Mr. Salisu Dambatta, the Minister's comment was contradicted.
The statement asserted that the Federal Government will continue to borrow from foreign and domestic financial institutions to fund its programmes.
"Following recent reports on comments by the Minister of Finance about Nigeria's debt strategy and ability to borrow, it is important to clarify the position of the minister and the Federal Government," the statement said.
"Nigeria will continue to borrow. Nothing has changed. The Economic Recovery and Growth Plan provides for an increase in spending over a three-year period, which is reflected in the 2017 budget.
"In 2017, the government is committed to spending N7.44tn, with a projected fiscal deficit of N2.356tn, which will be funded by a combination of domestic and international borrowing."
It added that, "Nigeria's debt to GDP ratio is low when compared to our contemporaries in Africa and across most of the developed world.
"We have a headroom to borrow and are doing so aggressively in the short to medium term in order to address our infrastructure deficit and to stimulate growth."
The statement stressed that the government is working towards diversifying the country's revenue base, adding that this would, in the long run, save the Nigeria from relying on debt to fund its budget.
It, however, said the government will borrow at a reduced proportion.