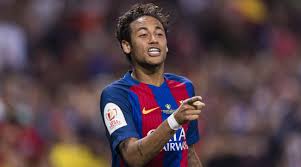 That's the question on everyone's mind following reports that Neymar has accepted Paris Saint-Germain's offer which triggered his £195million release clause with Barcelona.
Barcelona are still insisting that Neymar is not for sale with vice-president Jordi Mestre saying on Tuesday, July 18 that he's '200 percent' the Brazil international is staying at the club.
Another report from Barcelona paper Sport, revealed that Neymar is unhappy at the club because he remains in the shadow of Lionel Messi and Luis Suarez.
It's a largely unbelievable story as Neymar is known to be good friends off the pitch with Messi and Suarez. The tight MSN bond transmits to the pitch which sees the trio connecting unselfishly.
The reports of Neymar being unhappy behind the shadows of Messi and Suarez could also be true. It is believed that Neymar will not be able to emerge as the best player in the world while playing alongside Messi and a BBC report states that the 'FIFA World Player of the Year is an absolute obsession in Brazil'.
Another report states that Neymar has reportedly called some of his friends at Paris Saint-Germain informing them that he's ready to join them.
This is not the first time Neymar has been linked with Paris Saint-Germain but this time the intensity of the speculations suggest they might be something to it.
Barcelona are said to be already tired of the incessant Neymar to Paris-Germain drama every summer.
According to Daily Mail, some quarters in Barcelona believe it's time it's time they cash in on the forward if a club triggers his release clause.
Paris Saint-Germain are also ready to include Marco Veratti who has been a target of Barcelona.