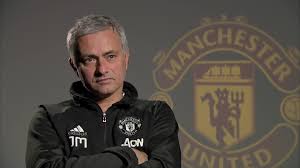 Jose Mourinho is set for face-to-face talks with Ed Woodward in a bid to get Manchester United's summer transfer window back on track.
Mourinho has become frustrated as United's transfer business has stalled since signing Romelu Lukaku in a £75 million deal from Everton two weeks ago.
The United manager has admitted he wanted four new arrivals in place before the start of preseason training in Los Angeles on July 10.
The club moved quickly to sign defender Victor Lindelof from Benfica for £31m and Lukaku. But in his first news conference on the summer, Mourinho said the job was only "50 percent" done.
It has become a recurring theme during Mourinho's time in the United States. Before the Manchester derby with City in Houston, he said he may have to drop his demands from two new players to one.
And after his team's 2-0 win at the NRG Stadium on Thursday night, Mourinho again stressed he needed "a little bit more" this summer.
Woodward took the unusual step of missing the start of United's tour, choosing instead to remain in London. In the past, United's executive vice-chairman has been present at the start of the summer trip and then left.
He has now arrived in Los Angeles ahead of the game against Real Madrid in Santa Clara on Sunday. Woodward has been in regular contact with Mourinho throughout the summer. But the pair are now set for face-to-face discussions with aims for the remaining weeks of the transfer window top of the agenda.
United remain interested in Tottenham midfielder Eric Dier, Chelsea's Nemanja Matic and Inter Milan winger Ivan Perisic. However, they have been met with fierce resistance from all three clubs.
Tottenham have refused to negotiate over Dier while Chelsea would rather sell Matic abroad. Inter have quoted £48.5m for Perisic, a valuation United have so far refused to meet.
Mourinho has also hinted he wants another striker. Lukaku has come in to replace Zlatan Ibrahimovic but Mourinho has suggested that still leaves his squad one forward light heading into the new season.