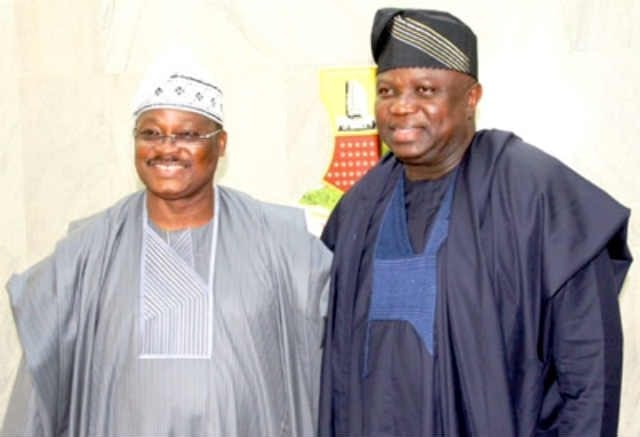 The Governor of Lagos State, Mr. Akinwumi Ambode, has announced the preparedness of the state to partner Oyo State and the rest of the Southwestern states in agriculture and other economic activities to enhance the socio-economic integration of the region.
Ambode stated this when he paid a courtesy call to his Oyo State counterpart, Senator Abiola Ajimobi, in his office, in Ibadan, on Wednesday, July 19, 2017.
With the steady progress being recorded by Oyo State in physical and social infrastructure, and the establishment of a commercial hub along the Lagos-Ibadan Expressway to attract investors, he said that Ajimobi had demonstrated that he was purpose driven.
In the last six years of the Ajimobi-led administration, he said that Lagos State had leaned towards the exemplary leadership of his Oyo State counterpart to drive some of its activities.
Ambode said, "Lagos activities towards the commencement of integration of Southwest leaned towards the activities of Oyo State Government in the last six years.
"For the first time, we can see an upward progress of Oyo State and I believe strongly that the capital projects carried out by the government in this state through public-private-partnership are just the right steps in the right direction.
"In the last one and a half years, Lagos State has decided to join the crusade for the economic and political integration of the Yoruba dynasty. May I say that Governor Ajimobi has been an exemplary leader, with the dexterity he used in bringing the Southwest governors together.
"Lagos is ready to partner Oyo and our sister states in the Southwest on agriculture and other economic activities that will enhance the renewed integration agenda of our region. The Southwest, especially Oyo, has arable land capable of growing crops that will guarantee food security for the nation."
Ambode said that the arrangement Lagos State had with Kebbi State on the production of rice could be replicated with Oyo State in the area of cassava production.
In his response, Ajimobi said that Oyo had the location advantage as the gateway between Lagos, which is touted as the commercial nerve centre of Nigeria, and the rest of the country.
As the largest producer of cassava and poultry products, the governor added that Oyo State would benefit immensely from the proposed partnership with Lagos State to drive its economic revival programmes.
Ajimobi said, "Lagos, being the most viable, stable and economic nerve centre of the country, can be of great help to the nation if it consumes what other states in the Southwest produce.
"Look at our own advantage in Oyo State as the gateway between Lagos and the rest of the country. We are the highest producer of cassava and poultry products and if Lagos consumes our products, it will assist the people of our state and our economy.
"I am of a strong conviction that we will soon put pen to papers on this partnership, especially in the area of sustainable food security where we have a comparative advantage over other states. Oyo has the largest arable landmass in the entire South and a vast population."