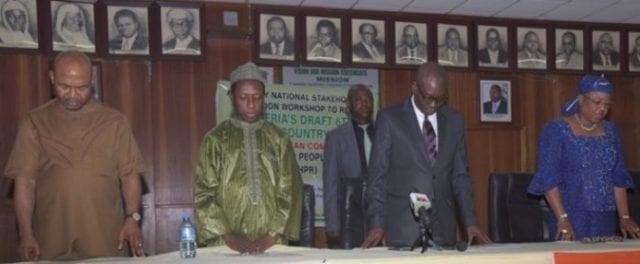 There has been satisfactory and significant developments and achievements recorded by Nigeria in the promotion and protection of human and peoples' rights as guaranteed under the Charter. This was the submission of the Solicitor-General of the Federation and Permanent Secretary, Federal Ministry of Justice, Taiwo Abidogun, ESQ., FCIArb.
Abidogun made this known in his opening address at a one-day National Stakeholders Validation Workshop to Review Nigeria's Draft 6th Periodic Country Report to the African Commission on Human and Peoples' Right (ACHPR), on Thursday July 27, 2017 in Abuja.
He added that the Nigeria's 6th Periodic Report to Commission has addressed most Commission's Concluding Observations and recommendations on Nigeria's 5th Periodic Report.
He explained that, "Nigeria's obligation to prepare and submit report to the African Commission on Human and Peoples' Rights is in line with Article 62of the African Charter and Article 26 of the Protocol to the African Charter on Human and Peoples' Rights relating to the Rights of Women in Africa. Nigeria undertakes under these provisions to submit every two years, a report on the legislative or other measures taken, with a view to giving effect to the rights and freedoms recognized and guaranteed by the Charter".
He further stated that the Nigeria's 5th Periodic Report of 2011 – 2014 was presented and examined by the Commission during its 56th Ordinary Session held from 21st April to 7th May in Banjul, Gambia.
Concluding, the Permanent Secretary reiterated that the validation workshop on Nigeria's 6th Periodic Report to the Commission is in fulfilment of the commitment of the present administration under President Muhammadu Buhari, to live up to her obligations to the African Union and its organs.
Earlier in her welcome address, Director International and Comparative Law (ICL), Mrs Stella Anukam, represented by the Deputy Director (ICL), Mrs Oche-Obe Antoinette, explained that the preparation of Nigeria's 6th Periodic Report started early in the year with an advertorials in some national Newspapers including the Punch Newspapers of Monday 13th March 2017, requesting the MDAs, States, Local Governments , Non-Governmental Organisations and the general public to forward their memoranda on the implementation of African Charter and the Maputo Protocol on the right of women in Africa.
The Law and Policy Consultant on Energy, Environment, Access to Justice, Gender and Development ICT and Investment, Prof. Muhammed Tawfiq Ladan, Ph.D, of the Ahmadu Bello University, Zaria, in an interview with the Media, said that human rights promotion by any Country in the World has never been a matter of excellence or a matter of perfection and that every country tries to improve on human rights protection for three reasons; the problems, issues and challenges.
He added that the promotion and protection in respect of human rights is not a one day, one year or one tenure issue that any administration can clear in any country.
''The reporting process or obligations is about a country like Nigeria that has ratified a human right treaty in Africa on the rights of all people, actual human beings in Nigeria, is to showcase in the last two years what is legislative measures, Policy measures in budgetary allocation for health, Labour trafficking for justice delivery, these are all matters that requires budgetary allocation'', he explained.
He further explained that such measures have been put in place by Nigeria to achieve the realization progressively of the right enshrined in Charter and to discharge its obligations. Also, he disclosed that from the last report Nigeria had improved on her human records.
Iheuwa Ngozi
For: AD (Information)
(FMIC)