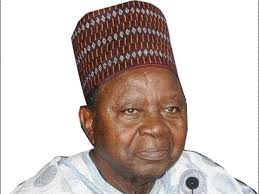 The Vice President of Nigeria, Mohammed Namadi Sambo has said that the Late Solomon Daushep Lar has left permanent footprints in the sands of time and will be greatly missed.
Mohammed Namadi Sambo made the remark during the Memorial Lecture and Tribute which held at the Ladi Kwali Hall of the Sheraton Hotel and Towers in Abuja in his honour as part of the activities leading to his final interment; noting that he was the 'Walin Langtang' popularly known as 'The Emancipator.'
The Vice President enumerated the varied legacies which he left behind in his numerous national assignments; describing him as political serge and particularly mentioning the developmental strides in his home state – Plateau State when he served as the first Executive Governor from 1979 to 1983.
According to him, Solomon Lar will be fondly remembered for his mantra, "leaving the state better than we meet it." He tasked the Plateau State Government to consolidate on his legacies by adopting his popular adage as a matter of policy. Namadi Sambo in his tribute stressed that Nigeria and Africa have indeed lost an icon, a true son of the soil and a formidable figure in the struggle for the entrenchment of democracy in Nigeria and Africa.
While praying the Almighty God to grant him eternal rest, he charged all those that he left behind and all Nigerians from all facets of life to live the legacies of a man of peace, saying he was a shining example of love, truth and righteousness. "No doubt, Lar was a political titan and a man of the people whose legacies shall stand the test of time." He attested.
In her remarks, the wife of the deceased, Mary Lar said that the last wish of her husband was that Plateau State and the country at large should live in peace. She also expressed appreciation for the several praises offered on account of his death. The memorial lectures were delivered by the Bishop of the Sokoto Catholic Archdiocese, Mathew Hassan Kukah and Isawa Eliagwu. Other speakers at the event were the Senate President, David Mark; the Speaker of the House of Representatives, Aminu Waziri Tambuwal, the Governors of Katsina, Nassarawa and Plateau States.
Tributes were given by the National Chairman of the Peoples Democratic Party (PDP), Bamanga Tukur; the PDP Board of Trustees – Tony Anenih, Hassan Adamu, Ebenezer Babatope, Ezekiel Izuogu, Jim Nwobodo and Kema Chikwe. Also his former school mates, family members and several associates paid glowing tributes to him and averred that he was a lover of peace and man of the people.