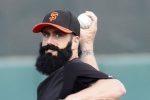 The Los Angeles Dodgers have re-signed pitcher Brian Wilson on a one-year, $10 million deal, strengthening a bullpen that has recently lost Ronald Belisario. Wilson's contract will include a player option for the 2015 season that is worth $8.5 million, and the 31-year old joins a team tipped by many Betfair customers to be among next season's leading contenders for the World Series.
The Dodgers signed Wilson in August following an injury-plagued season with the San Francisco Giants in 2012. The relief pitcher went on to play 18 games for the Dodgers last season, finishing 2-1 with a 0.66 ERA but walking only four batters while striking out 13 others.
During his six year spell with the Giants, Wilson established himself as a key part of the San Francisco pitching roster, leading the league in saves in 2010. But the Dodgers may have expected to rival interest in the right-hander, Wilson will now be looking to prove just why the franchise were so keen to retain his services and just why he is joining a roster that will believe it can bring a World Series back to Los Angeles – something the Betfair odds back up.
Wilson is expected play an important role for the Dodgers, setting up games for Kenley Jansen in the seventh and eighth innings. Jansen will step up into the closer role after recording a career-high 28 saves last season, striking out 111 batters during an impressive season.
Having a player capable of shutting down innings prior to the ninth like Wilson could give Jansen the confidence he needs to continue last season's form into next year and lead the Dodgers bid to mount a real push for the World Series and show why they are among the favourites with Betfair.
After coming so close last year and bolstering their squad during the offseason, the Dodgers will rightly begin next year as the Betfair.com favourites to win the World Series. That said, Dodgers fans won't be counting any chickens yet after so many false dawns since their last World Series win in 1988, but there does seem to be a real belief in Los Angeles that 2014 could well be their team's year.