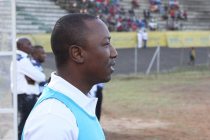 Mambas coach Joao Chissano said he has impressed it upon his players not to balk under pressure of the big stage when Mozambique take on Bafana Bafana in the CHAN opener at Cape Town stadium on Saturday, 11 January 2014.
"I know this is a big stage but I have told my players not to be intimidated by the atmosphere. Playing on such stages is a once off opportunity for a team like Mozambique and I have told the players to seize the opportunity and make names for themselves," said Chissano.
Mozambique has played Bafana four times in the past and have lost all of those encounters but Chissano said history was there to be broken.
"There is always the first time. It might not be tomorrow (Saturday) but that day will eventually come. So I don't want to bother myself much with what happened in the past," he said.
The youthful coach who looked relaxed said his players know that the world will be watching and lots of scouts will in the stands.
"This is a different ball game altogether. The players know what is at stake. This might be their chance to break into the international stage and will definitely give it a go against the hosts," he said.
Whatever the result, Chissano said his team would not be disgraced.
Confederation of African Football News