Opt4 Group who specializes in managing all telecommunications needs for their customers including data and voice wiring, audiovisual, videoconferencing and VoIP was selected to provide updated CAT6 cabling with riser and fiber cabling between the four floors Glenmede Investment and Wealth Management occupies.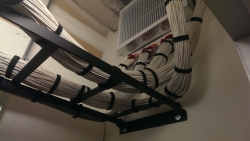 Doylestown, PA, January 14, 2014 –(PR.com)– The six month renovation project was a huge project for Glenmede and it was no surprise that Opt4 Group was chosen to provide outstanding cabling infrastructure to their four floors at 1650 Market Street. New laws mandate proper removal of existing cabling and Opt4 Group deconstructed a large quantity of potentially fire hazardous old wiring within the building. While renovations were underway, Glenmede was concerned for productivity loss and Opt4 Group was able to help them facilitate a swing space to minimize work disruptions.
For families, family offices, endowments and foundations, the path to financial stability and opportunity begins with a company founded by the Pew family in 1956—Glenmede. As a privately owned trust company with over $22 billion under management, they never struggle with competing priorities. They remain singularly focused on investment and wealth management, and serving their client's best interests. Their seasoned professionals take a long-term view and gauge success based on how well they manage your wealth from one generation to the next. Visit Glenmede.com for more information.
Opt4 Group will manage a project from beginning to end, guaranteeing its effectiveness and is within budget constraints. Their expertise range from installing an effective and expandable structured cabling infrastructure to boardroom design including the latest audio visual equipment and video conferencing, the latest VoIP phone systems, carrier services and IT services. They feel the key to their success has been developing long-term relationships with their customers and vendors by building a reputation for excellent work and fairness. They are proud to say they are still providing service to most of their first year customers. Visit opt4group.com.