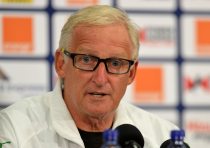 Normal
0
false
false
false
EN-ZA
X-NONE
AR-SA
Under fire Bafana Bafana coach Gordon Igesund admitted his side were well beaten by Nigeria's Super Eagles adding he had no excuses for the crushing defeat.
Bafana were walloped 3-1 by Nigeria on Sunday evening at Cape Town stadium to bomb out of the tournament being held on home soil.
The Bafana coach however, ruled out quitting saying he had tried his best but on the day had no answers to the swashbuckling Super Eagles juggernaut.
"Nigeria deserved their victory, they were physically stronger, were hard running and fully capitalised on our glaring mistakes. I am going to offer no excuses; we were today beaten by a better side.
"We however, missed some of our regular players especially at the back. But that is no excuse, I will repeat again. We were just not good on the day," admitted Igesund.
The Bafana coach however, insisted he would not throw in the towel unless his employers force him to do so.
"I had no mandate going into the CHAN tournament. I think this Bafana team has improved greatly in the last few months. I will continue until my contract runs out in June. But if SAFA think it is high time for me to go, that is fine with me. It is not in my hands," added the coach who told the media the defeat was not his lowest coaching moment.
"I would not say this was my lowest moment. We have to rise up and carry on. "
His counterpart Steven Keshi said he was happy with the outcome and was not much of a surprise as his side has been improving by each game.
"People have been saying a lot about the goalkeeper but I have not seen a perfect human being in the world. He might have had his lowest moment but today, he produced some scintillating performances," said Keshi.
….
/* Style Definitions */
table.MsoNormalTable
{mso-style-name:"Table Normal";
mso-tstyle-rowband-size:0;
mso-tstyle-colband-size:0;
mso-style-noshow:yes;
mso-style-priority:99;
mso-style-parent:"";
mso-padding-alt:0in 5.4pt 0in 5.4pt;
mso-para-margin-top:0in;
mso-para-margin-right:0in;
mso-para-margin-bottom:10.0pt;
mso-para-margin-left:0in;
line-height:115%;
mso-pagination:widow-orphan;
font-size:11.0pt;
font-family:"Calibri","sans-serif";
mso-ascii-font-family:Calibri;
mso-ascii-theme-font:minor-latin;
mso-hansi-font-family:Calibri;
mso-hansi-theme-font:minor-latin;
mso-ansi-language:EN-ZA;}
Confederation of African Football (CAF) News