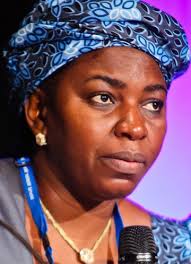 The Minister of Water Resources, Mrs. Sarah Reng Ochekpe has said that the Gurara multipurpose dam has potentials for industrial purpose, agricultural purposes, fisheries, hydropower electricity as well as tourism.
The Minister was speaking to journalists while inspecting the dam site, irrigation and the hydropower component of the dam on Thursday 6th February, 2014.
She said that "The dam has a lot of potentials especially the agricultural part with the 6000 hectares of land for irrigation: "You can imagine the amount of food that would be cultivated here, not just to service the immediate environment of the FCT and Kaduna State but also other parts of Nigeria."
She said that the Ministry would allocate some portions of the 6000 hectares of land to civil servants because Government believed that civil servants should also take active part in farming activities. However, the Minister added that bulk of the land would be concessioned to private investors.
She said that all necessary arrangements have been done for the commissioning to take place at end of this year: "Today, we are here on inspection visit just to be sure of the progress of the work so that we can brief the Vice President who will personally visit the projects. It is a multipurpose project; we have water transfer to FCT Abuja, we have irrigation scheme, under the irrigation, we have center pivot (sprinklers) that have been installed, we have cannels, we have reservoir that can store water for the irrigation"; She said.
While speaking on the hydropower, the Minister said, the 30 megawatts of electricity has been generated from the dam, but was stranded for some time because of non-completion of the project but the present administration has provided money for completion and that has made the contractors to work in earnest toward the completion. She added that about 309 towers would be erected for the transmission line to evacuate the power from the dam site to Kudanda Industrial Estate, Kaduna State.
"The first tower has already been installed and the contractors have assured us that before the middle of year most of the towers and the transmission line would have been installed. If the 30 megawatts is injected to Kaduna Industrial Estate, you can imagine what impact the availability of that power will generate"; she said.
She mentioned that Kaduna has been a house of many textile industries but because of the power issue most of them have grounded. With this development more of this power textile industries would came back and start production and it means that many more people would be employed and there would be more income in the hand of Nigerians, and of course it will bring about social stability and security in the country.
On tourism potentials, the Minister said that the Ministry of Water Resources is working with Ministry of Tourism, Culture and National Orientation to exploit the tourism potentials in the area.