Delta State Governor, Dr. Emmanuel Uduaghan has disclosed that the State Government would soon float a foreign skills acquisition programme to enable some youths of the State's origin to acquire capacities abroad.
The Governor also directed the State Ministry of Basic and Secondary Education to begin the process of converting single public schools in the State to mixed ones beginning from September.
Inaugurating the famous Nana Model College, one of the 13 model colleges built by his administration, Dr. Uduaghan reiterated that the State Government was placing serious emphasis on education, and pleaded with host communities of public schools to have a sense of ownership of such institutions and protect them against vandalism.
The Governor stated that soon the State shall be sending some of its young ones for skill acquisition outside the country, preparatory to the industrial revolution that is ongoing in Nigeria with Delta State as one of the key states under the Federal Government Programme of industrial revolution.
He said , the State is doing a lot in the area of education, with scholarship schemes for every level, from primary to secondary and tertiary school and to a larger part postgraduate. We also have our skill acquisition programme that is ongoing,
Uduaghan highlighted the benefits of co-educational school system,and explained that that people who attended mixed schools when they grow older tolerate each other more, he also announced that Nana College, which is a girls' school would start admitting boys into junior secondary class one from September.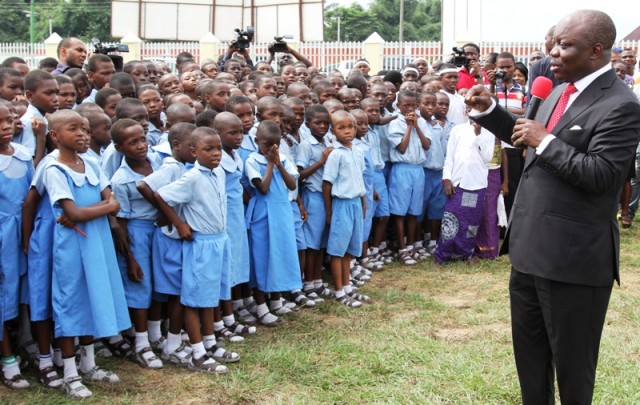 Expressing displeasure at the actions of persons vandalizing public institutions, Dr. Uduaghan called on host communities to develop a sense of ownership around such facilities and protect them against intruders.
Governor Uduaghan, who also inaugurated Alder's Town Special School in Warri, decried the attitude of individuals who come into the school to vandalize and desecrate it, noting that disabled persons should be encouraged to attain their God given potentials and nobody should stand in the way of their successes in life.
He said that the State Government has a robust programme for physically challenged persons in the State, ranging from special scholarship and five per cent quota for every employment carried out by the State Government.
The Commissioner for Basic and Secondary Education, Prof. Patrick Muoboghare in his address at Nana College explained that the 13 special model secondary schools were built because of the Governor's vision was to revolutionize the education system in line with his three point agenda of human capital development, infrastructure development and peace and security
Delta State Government Press Release