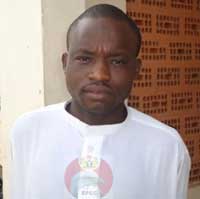 Justice B.O.Quadri of the Federal High Court, Gombe today March 24, 2014 sentenced one Abubakar Dan-Inna alias Goni Bukar to 2 years imprisonment with hard labour. The convict, who was arraigned on October 3, 2013, was convicted on each of the two count charge of conspiracy and obtaining by false pretence.
The sentences are to run concurrently.
Dan-Inna was alleged to have fraudulently obtained monies to the tune of about N2, 051,800 from one Alhaji Adamu Hassan, a businessman, by fraudulently representing himself as capable and possessing the power to bring Adamu out of his business misfortunes through the medium of invocation of diabolic and other invincible entities. The offence is contrary to and punishable under Sections 1(1) (a) (b), 2(b) and 1(3) of the Advance Fee Fraud and Other Related offences Act, 2006.
In addition to the jail term, Justice Quadri also ordered that the convict's car and other properties which are proceeds of crime be sold and proceeds paid to the victim in restitution.
---
Media & Publicity
24th March, 2014