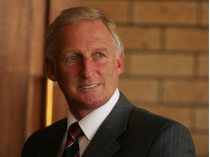 Bafana Bafana coach Gordon Igesund said he was happy to have been cleared of damaging allegations and was now looking forward to the Australasia tour of Australia and New Zealand late next month.
Igesund was placed under an investigation following allegations that he instigated some or all players of the Men's Senior National Team to demand more bonuses during the African Nations Championship (CHAN) 2014 tournament.
He was also accused of being influenced by the player agents to select certain players.
However, the task team led by one of South Africa's leading attorneys and SAFA NEC member, Norman Arendse found that on the basis of evidence and information received, there is no basis to substantiate the allegation that the Head Coach instigated some or all players of the Men's Senior National Team to demand bonuses during the CHAN 2014.
On the basis of evidence and information received, the Task Team found that there is no basis for the allegation that player agents had undue influence over the selection of players for matches involving the senior national team.
The Task Team has found the two allegations made against the Head Coach had no substance whatsoever.
"I am glad this cloud is behind me. It was taking its toll on me but I was confident I would be absolved because I had done nothing wrong," said Igesund.
The task team however came up with various recommendations, among them that SAFA should establish clear policies and protocols on matters related to selection, contracts, bonuses, medical reports, contractual / financial and all other matter affecting players.
It also recommended that the roles of Team Manager, Head Coach and Head of Delegation must be clearly spelt out in writing and that the Head Coach ought not to have a Player Agent as his own agent.
The team also recommended that the Player Agents must not be allowed in the Team hotel prior to and during matches of the National Teams and that there must be clear protocol around the security of the Team in order to maintain the integrity of the Head Coach, Technical Staff and the Players.
Confederation of African Football (CAF) News