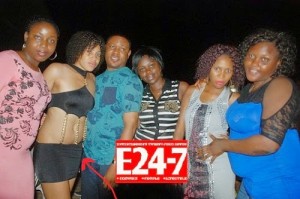 No be me talk am ooh, she made the statement herself.
She goes by the name Arike Josephine
Williams
and she is the younger sister of very talented actress,
Fathia
Balogun
.
Arike recently celebrated her 28th birthday and she was interviewed briefly.
See excerpts and more pictures below: –
You had a unique outfit to celebrate your birthday, how much did you spend on it?


Both shoes and my dress cost a hundred and fifty thousand naira (N150,000).
You are a fresh graduate with no job yet, how were you able to raise money for that?


Oh, my boyfriend got the dress for me, and I am glad he did.
Back to the financial cost of your birthday, how much did you spend in total for your birthday?


For drinks and every other thing, I spent over
Five
Hundred
Thousand
Naira, but my boyfriend and other friends really made it happen on that day and I am so glad.