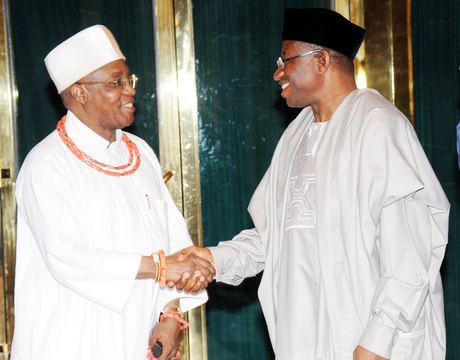 President GOODLUCK JONATHAN (R) WITH THE CROWN Prince OF BENIN, HRH EHENDEN EREDIAUWA WHO PAID HIM A VISIT IN Abuja ON Friday (25/4/14).
The Oba of Benin, Omo N'Oba N'Edo Uku Akpolokpolo Erediauwa, on Friday in Abuja urged President Goodluck Jonathan to join the 2015 presidential race to enable him continue his good work for the country.
Erediauwa, who made the call when he spoke with State House correspondents in Abuja, after a closed-door meeting with the president, said his kingdom had since embarked on special prayers for Mr. Jonathan's success in the 2015 general elections.
Represented by his Son, Crown Prince Eheneden Erediauwa, Oba Erediauwa said the kingdom had also embarked on special prayers for the continued survival of Nigeria as a stronger, united entity.
"On behalf of my father, who sent me here to convey this message to Mr President that he has been following the things that have been happening in the country.
"All these disturbances, the distractions Mr President has been having, that Mr President being his own Son, he considers Mr President his Son and he has asked me to present this special message to Mr President, to tell Mr President that he is praying for him in the Benin Kingdom.
"He is praying fervently for him to be able to withstand the pressure, to go through the pressure.
"And also to pray that the opportunity will come for him to continue the good work he is doing in Benin and other parts of South-South for at least another term.
"I believe that is the commitment we have in this kind of special prayer coming from the Oba of Benin, my father".
The revered monarch, who pledged the support of people of his kingdom to the Federal Government, urged President Jonathan not to be distracted from his good works by those who were bent on causing social discontent in the country.
He maintained that the kingdom would continue to pray for the president to enable his administration overcome all security challenges bedeviling the country.
Oba Erediauwa stated that he would continue offer 'fatherly advice' to the president to guide him in facing future challenges.