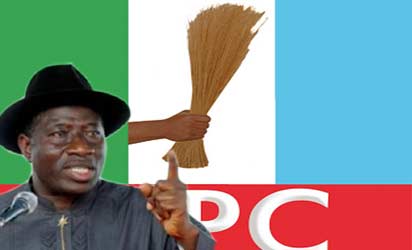 Sequel to media reports that its governors shunned a security meeting with President Goodluck Jonathan at the Presidential Villa on Thursday, the All Progressives Congress, APC, has released a statement denying the reports.
Special Adviser to the President on Media and Publicity, Dr. Reuben Abati, had in a State House press release on Wednesday, said Jonathan had summoned state governors to an enlarged National Security Council meeting on security developments in the country.
Abati had said members of the council and the state governors would review the security situation as well as the ongoing measures and operations with a view to determining the best way forward.
All the three North-East states where Boko Haram has strong presence are controlled by the APC, so it came as a surprise to most political observers why the APC governors or least of all, the three governors of the affected states, would shun a meeting that aims at finding lasting solution to the insecurity situation in the states especially, and the nation in general.
But the opposition party in a statement by its Interim National Publicity Secretary, Alhaji Lai Mohammed, said the truth of the matter was that its governors were given the impression that the meeting had been called off by a source it traced to the Presidency, hence they stayed away.
The statement partly read "On Wednesday, the Presidency called the Chief Detail of the Kwara State Government to say that the meeting had been called off.
"On the basis of this information, which apparently got to other governors under the aegis of the APC, our governors did not attend.
"Now that the meeting has been held, it is incumbent on the Presidency to launch an investigation into the source of the call to the Kwara State Government and what the call was meant to achieve.
"Irrespective of the totally unfounded and absolutely irresponsible allegation that the APC is behind the escalating security situation, our party will not shy away from any serious effort to end the terrorist attacks in our country. Therefore, it is not true that our Governors shunned the meeting with the President".