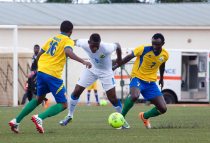 Rwanda was held to a goalless draw at home by Gabon in the 2015 Orange CAF U-20 Championship qualifier played at the Regional Stadium in Kigali on Sunday.
The second leg will be played in Gabon on the weekend of May 24 with the overall winner qualifying for the third and final round.
The Junior Wasps failed to utilize several goal scoring chances to snatch a win over their Gabonese counterparts following their blunt striking force.
They had the upper hand in the game but poor finishing from Betrand Iradukunda, Yannick Mukunzi and Maxime Sekamana gifted the Gabonese a draw which gives them an edge going into the second leg.
Jean Paul Niyonzima had two attempts on target in the first half but were all kept out by Gabonese goalie Patrick Menene Mekosso.
His Rwandan counterpart, Olivier Kwizera was also forced to make an early save from Ricky Ango Ndoutoume after he swept past defenders Latif Bishira and Andreson Neza, only for the APR custodian to deny him.
Gabon had another clear chance to find the net wasted when substitute Ibrahim Mba eliminated Bishira to connect a stretched set piece past Edmond Lessa as the visitors pressed the Junior Wasps with ten minutes to the end of the first half.
After the interval, both sides continued with their both defending and attacking flair but neither could find each other's net for a winner.
Rwanda coach, Richard Tardy in a post-match interview said: "a draw is not a bad result but it would have been good if we had won this game. We will maintain our offensive approach when we head to Libreville for the return leg.
"We have no option than to attack and force a win over Gabon. I believe they will play an open game and this will help us to score. I'm assured of qualification from the second leg," added Tardy.
His opponent, Rigobert Nzamba was a happy man after his side forced an away and vital draw.
He said: "I must congratulate Rwanda for playing a good game. The second leg game is ours to lose. This is a good result and we are going to beat them in the return leg."
Confederation of African Football (CAF) News