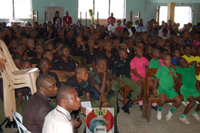 Chairman of the Economic and Financial Crimes Commission, EFCC, Ibrahim Lamorde has called on Nigeria youths to imbibe integrity as a way of life.
Lamorde who was represented by Aisha Larai Musa, Head, Enlightenment and Re-orientation Unit, made this remark at the launch of Integrity Clubs in some police secondary schools across the South-South Zone of the country.
According to him, the clubs are design to inculcate the values of integrity and transparency in the impressionable students to enable them grown up to be responsible citizens and change agents for Nigeria.
Economic and financial crimes, he said, could be best prevented if an individual imbibed early in life, strong moral values of integrity, honesty, accountability, transparency, fairness, equity and trust.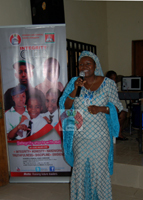 According to him, the launching of the clubs represents the Commission's shift from the traditional law enforcement to crime prevention through education and citizens' engagement.
"The EFCC Secondary Schools Integrity Clubs, therefore, are intentional, joint proactive efforts by schools and the Commission to instill in our young ones important core ethical values of honesty, fairness, responsibility and respect for self, others and citizenship," he said.

Lamorde also disclosed that, the inauguration of the club at the Police Comprehensive Secondary School, Port Harcourt, brings to 151, the number of Integrity Clubs already established by the Commission across the nation.
Apart from the Police Comprehensive Secondary School, similar clubs were also launched at the Police Secondary Schools in Akpabuyo, Calabar, Cross Rivers State and Ukana, Akwa Ibom State.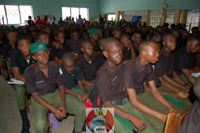 At the Port Harcourt launch , M. M. West, Permanent Secretary, River State Ministry of Education who stood in for the Commission, commended the initiative. "The idea of catching the children young and enlisting them in the crusade against corruption is a welcome development that will surely help the country", he said.
Speaking on behalf of the Director, Police Directorate of Education. ACP Austin Odion said the gathering was a landmark in the collaboration between the Nigeria Police and the EFCC in the fight against corruption.
According to him to completely uproot corruption, catching them young was vital. "This will emanate from our bringing back the societal core values and inculcating them in the young ones. This is what the EFCC integrity Club is set out to achieve," he said.
---
Media & Publicity
11th June, 2014