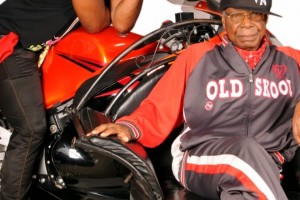 We all know Charly Boy to be a man of his words and acts immediately on his impulses.
Some of you might have heard how he stormed out of the lying-in-state of his father, Justice Chukwudifu Oputa, in Owerri, Imo State, on Wednesday.
According to eye witnesses, while the procession was on, he suddenly walked out of the venue.
At this point, Imo State governor, Rochas Okorocha, members of the state executive council and the national chairman of the All Progressives Congress (APC), Odigie Oyegun, were all seated inside the International Conference Centre, Owerri.
Guests thought he would return to the venue but Charly Boy ordered his aides, security and cameramen to follow him immediately.
Going by reports, Charly Boy decided to leave the venue when it was becoming obvious that the service was beginning to turn to a political rally of sort.
He was also said to be displeased as the event had to be delayed until the arrival of the governor and top government functionaries.