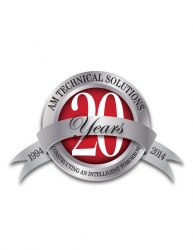 Austin, TX, July 17, 2014 –(PR.com)– As AM Technical Solutions (AMTS) begins its 20th year in business, the marketing communications team interviewed CEO, Kelly McAndrew, to learn his perspective on the company history, the evolution of the company name, its market offerings and the AMTS strategic approach to building partnerships with clients. The company has seen consistent growth with this approach, and continues to provide high value solutions to the semiconductor and life science industries.
The company was formerly named Applied Mechanical. How did that name come about?
"It was the brain child of our Founder, Tim Self. Because Applied Mechanical entered a market to provide a service to help clients manage quality in their business and with mechanical installations being a critical path, the name was intuitive. Mr. Self's Mechanical Engineering background certainly influenced the name as well," says McAndrew.
Several years ago you changed the company name from Applied Mechanical to AM Technical Solutions. Was this due to a business model expansion to include full EPCM model capability?
"Our name needed to represent our business direction. We've been providing unique and effective solutions to our customers for 20 years, and I believe our new name is more reflective of that. The obvious evolution of customer trust that's taken place has led us from our initial start and continuation as a leader in quality to now primarily providing comprehensive factory solutions," says McAndrew.
In the specialty construction market AM Technical Solutions serves, what makes the AMTS business model different?
"We listen. Our focus is on understanding the unique and dynamic needs of each client as they navigate a fast paced and changing environment. We then develop a customized solution that addresses their needs. Our solutions revolve around four main areas: Construction Management, Capital Asset Solutions, Total Quality Management, and Cleanroom Performance," says McAndrew.
With the type and complexity of the business opportunities AM Technical Solutions has seen over the 20 years, what is the company doing differently?
"Our solutions are broader ranging and dynamic. While our product lines remain similar, we have been able to develop a much more comprehensive approach in the solutions we provide around engineering, procurement, and construction management. Because of our reputation and business results, our customer base has enabled us to provide services to major customers both domestically and internationally with projects ranging from EPCM support to targeted scopes of work that our customers look for from AM Technical Solutions," says McAndrew.
Where are the business growth opportunities?
"Our current and future customers in the High Tech industries are thought leaders. Because of that, there is always a need for the unique and solution-based approach we deliver. We believe our approach allows the owner to gain a competitive advantage by reducing cost and risk," says McAndrew.
Are clients asking more from AMTS?
"Yes. Our global reach and install base as a company is a direct reflection of just that," says McAndrew.
Are the types of projects changing for AM Technical Solutions?
"Yes, definitely. In our early years we were known for performing QA/QC services and supplying quality people to projects. Today our key clients trust us to own entire facility build projects and work collaboratively to save money and execute more efficiently than when a traditional, less integrated approach is used," says McAndrew.
Describe the investments made in the AMTS team and why?
"As our customers ask more of us, and our global footprint grows, that investment becomes critical for us both from a cultural and operational perspective. I believe we've been blessed to have that right mix as both our executive leadership and our site management understand that when we invest in those areas the results will speak for themselves, for our customers, our people, and our communities," says McAndrew.
What is different about the AMTS business model from that of the company's peers?
"We care more about building a relationship with our customer than we do about our revenue or our quarterly results. If our customer's interests and ours are not aligned, we won't take on the project," says McAndrew.
Is AMTS's business solely in SEMI, or does the company address other markets?
"Historically, we've been primarily involved in the semiconductor-manufacturing sector. This will continue to be our main focus; however, we have also taken our expertise and experience to adjacent industries such as Life Sciences and Higher Education research facilities," says McAndrew.
Explain the AMTS NASCAR sponsorship.
"Our Founder and Chairman, Tim Self, has a passion for Motorsports and we are now using the Motorsports Platform to promote the AMTS Brand as well as that of some of our partners and charities. Currently we field the AMTS 22 Dodge with Cunningham Motorsports, a Penske Development Team. We are in pursuit of the ARCA Championship with Tim's son, 18-year-old Austin Wayne Self, who is currently the leading candidate for rookie of the year in the ARCA series. You can see the AM Technical Solutions car racing around the country, and also on national TV broadcasts on CBS Sports or Fox Sports," says McAndrew.
With the company's investment in people, product and process to meet the needs of the markets you service, what does the future look like for AM Technical Solutions?
"It looks very bright. Because our approach to business has proven out measurable value to our clients, we continue to see more and more opportunities both domestically and internationally. We're energized and grateful as we look to the future. One final note that I think is important, irrespective of these opportunities and our current growth, rest assured we will continue on doing what's right for our clients, our people and the communities we work as that is the foundation of AM Technical Solutions," says McAndrew.
About AM Technical Solutions:
Founded in 1994 in Austin, Texas, AMTS provides comprehensive specialty engineering, procurement, and construction management solutions around new facility construction, sustaining or consolidating manufacturing facilities in the semiconductor, life science and higher education markets.
Website: www.amts.com
Contact Information:
Tim Glasson
SVP of Corporate Development
Email: tglasson@amts.com
Phone: 214-287-0432