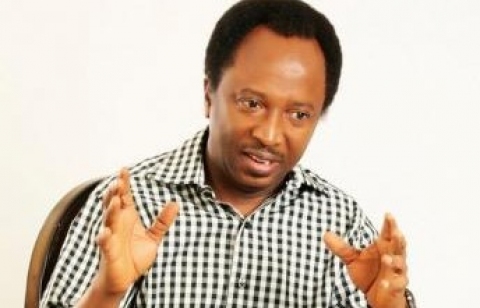 Kaduna based civil rights activist, Comrade Shehu Sani, has said that political bickering and blame game between the government and the opposition parties in the country are helping to fuel the current wave of violence and insecurity in the country.
In a statement on Friday, Sani, who is also the President of the Civil Rights Congress (CRC) and a senatorial aspirant on the platform of All Progressives Congress, APC, said it was wrong for the ruling Peoples Democratic Party (PDP) to blame the ongoing insurgency in the country on the opposition without any proof, while it is utterly false to concoct any conspiracy theory that links President Goodluck Jonathan or the Federal Government to attacks that clearly had all the trademarks of the Boko Haram insurgents.
Sani, who was reacting to Wednesday's twin explosions in Kaduna, which apparently targeted prominent Islamic cleric, Sheikh Dahiru Bauchi and former Head of state and frontline opposition figure, Gen. Muhammadu Buhari, said the nation has a major challenge which must be addressed with the cooperation of every Nigerian irrespective of political or religious affiliation.
He noted that if the attempt on the lives of the two personalities had been successful, the nation would have been thrown into a major crisis which may have been the intention of those who sponsored the attacks.
Sani said: "The multiple bombings in kaduna and kano which targeted Muhammadu Buhari and Sheikh Dahiru Bauchi stands unreservedly condemned. The assassination attempts once again demonstrated the annihilating danger faced by the Nigerian state. The attack if successful could have trigger a serious civil unrest of which the architect must have intended to achieve.
"The ongoing insurgency and the overall security situation in the country should be a matter of concern to all. With the attack on these two prominent Nigerians, it's evidently clear now that we are in a situation where everyone is vulnerable. The series of campaign and violence is the most imminent and concrete threat to Nigeria's unity, freedom and democracy.
"For how long should we continue to harvest the corpses of innocent victims of mass murder? There is the absolute need for national unity and solidarity in tackling the menace.
"Violence will continue as long as there is no exigent national cohesion to combat it. Political bickering and blame game between the government and the opposition and warmongering between the north and the south helps in sustaining the violence.
"It is utterly wrong for the ruling party to ascribe the ongoing insurgency to the opposition without any iota of proof to that and it's utterly false for anyone to concoct conspiracy theory that links President Jonathan or the Federal Government to attacks that clearly and evidently has the hallmark of the insurgents".