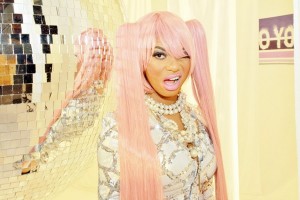 It seems like no one in this world can get Dencia to shut up, she talks when she wants and says what she wants; and I kind of like it.
Most of us know that the US-Africa Summit kicked off on Monday and will hold till Wednesday 6th August 2014.
President Barack Obama who turned 53 yesterday, invited African leaders to the Washington D.C to help focus on trade and investment in Africa as well as highlight America's commitment to Africa's security, its democratic development and its people.
A good number of African leaders including President Goodluck Ebele Jonathan, are presently in the US for the summit.
Cameroonian pop star Dencia took to her official Twitter page to slam the summit.
She also noted that if America was really concerned about Africa, it will send the serum used for the American doctor affected by Ebola in Sierra Leone, who is responding to treatment.
See Her Tweets Below: –
Wait so the African Summit in DC will focus on Trade & investment,pls investing in which country?Investment is when 50 presidents pay (cont)
Dencia (@IanDencia) 5 Aug 2014
Fly private jets,spend millions on a 3 day summit,hotel etc pls that's investing in America & oh the shipping sprees smh Africa.
Dencia (@IanDencia) 5 Aug 2014
Why couldn't the summit be held in a peaceful African country?a whole continent flies to 1 count in the name of trade & investment?
Dencia (@IanDencia) 5 Aug 2014
With everything currently going on in Africa?they will come out with No benefits to the average joe & zero knowledge.
Dencia (@IanDencia) 5 Aug 2014
There's hungry kids,people sick in the hospital,Ebola,missing girls in Africa yet u are talking abt trade & investment,Who u investing 4?
Dencia (@IanDencia) 5 Aug 2014
America sent medication to cure 2 American Dr's with Ebola,why couldn't they give it to others?why couldn't these Africans use (cont)
Dencia (@IanDencia) 5 Aug 2014
The money on the flights & hotels for this damn summit to buy the meds and help people dying from Ebola?Africans are quick to blame (cont)
Dencia (@IanDencia) 5 Aug 2014
Shit I am sure I could give the damn African leaders better advice on trade & investment cuz all this up & down is for the Gram!! Lol
Dencia (@IanDencia) 5 Aug 2014
You wonder why Africa ain't progressing. Smh #AfricanSummitIsUseless #GoSummitYoselvesInAfrica
Dencia (@IanDencia) 5 Aug 2014
Y'all outchea celebrating Obama's birthday while ur countries are suffering in the name of summit (then again Kermit on that shit)
Dencia (@IanDencia) 5 Aug 2014
– See more at: http://www.ngtrends.com/2014/08/dencia-slams-us-africa-summit-talks-ebola/#sthash.17NHAZGo.dpuf