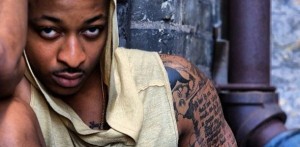 Controversial Nollywood actor and model — IK Ogbonna, was in the news just a few days ago after he bought his very sexy girlfriend a Range Rover she had been begging for.
The bald headed actor is back on our radar again with something new.
IK Ogbonna has attributed his tattoos and body piercings to his love for the arts.
In a recent interview, IK described tattoos as natural, adding 'Its just like buying clothes, you see what you like and you get it'.
He went on to say that he desires to get more but for his profession, ' I would have had more tattoos but because I am an actor and some roles will not allow me. Soon, I may go very crazy with tattoos. I love art a lot, this is my body, God gave it to me' .
On the controversies the tattoos have attracted to him, Ogbonna, unmoved, stated: 'The tattoos on my body are Bible inscriptions and they mean something to me. I don't have dead bodies or funny looking quotes on it. I understand the Bible says we should not inscribe the drawings or names of the dead or other gods. The same goes for piercing, the bible does not say piercing or braiding of hair is exclusive to a (particular) s*x….