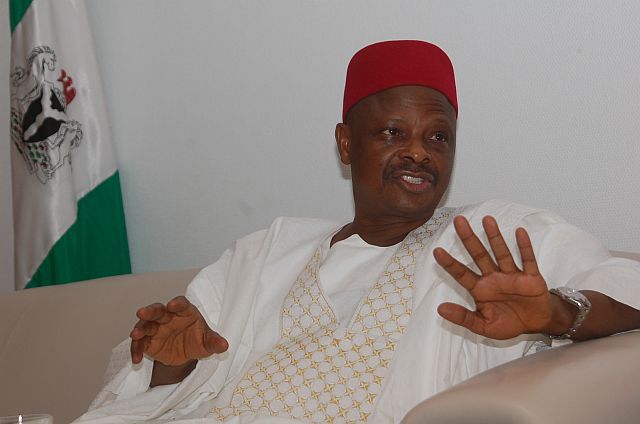 Governor Rabiu Kwankwaso of Kano State on Thursday, said he was happy he left the Peoples Democracy Party, PDP. He also advocated the use of consensus arrangement to pick the presidential candidate for his party, the All Progressives Congress, APC, in the 2015 Presidential election
Kwankwaso made this known while addressing lawmakers of the APC at the House of Representatives in Abuja, Thursday, after visiting the Speaker, Aminu Tambuwal.
The governor stressed that he was happy to be in a party which had the power to defeat the PDP.
"Since we now have quite a number of aspirants, all of us are working very hard especially those of us (who moved) from PDP; we have a huge advantage," he said. "There are so many people who are tired of the status quo. Status quo is not good for the country therefore we have to work together".
According to Kwankwaso, the PDP had already defeated itself, hence, "all we need is to ensure that it does not rise", he said.
He expressed his delight at being part of the APC and thanked every other member of his party who joined in making the party what it is today.
On his call for a consensus candidate, Kwankwaso, who is seeking the APC presidential ticket, said: "People are worried and very much concerned about the issue of primary elections. Let me tell you that our constitution has provided for consensus, it has also provided for elections.
"For those of us who came from PDP, we know the advantages and disadvantages of primary elections but if you look at it critically from 1999 to 2011, every election year, PDP was having primary elections even when we had sitting President in 2003 and 2011, we had primary elections.
"Every other parties did not conduct primary elections in the actual sense of it. They sit down and look at faces and say you, does a guess work. Yes may be he is number one here but when you go to the field, he may not be number one.
"That is why I am personally calling for a consensus, but if it doesn't happen, I believe primary election is also good for the party", he said.