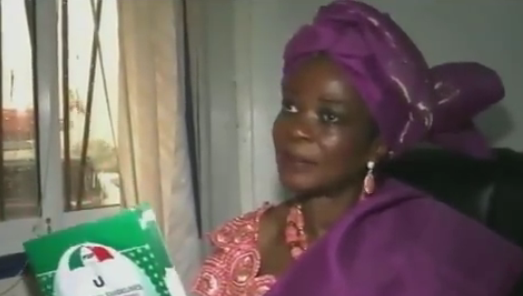 The leadership of the People's Democratic Party (PDP) said it has noted the refusal of Prof. Akasoba Duke-Abiola, widow of late Chief MKO Abiola, to collect her Presidential Expression of Interest and Nomination forms in spite of the one week grace period granted by the party, which expires today, to accommodate teeming party faithful interested in running for respective offices.
The party also noted that Mrs. Duke-Abiola willfully refused to collect her Expression of Interest Form with code number PD002/P and serial number 0000003 and Nomination Form with code number PD003/P and serial number 0000003 even after it was sent to her through her lawyers.
National Publicity Secretary of PDP, Chief Olisa Metuh, in a statement on Thursday, said Professor Duke-Abiola's refusal to collect the forms suggests an ulterior motive adding that other aspirants including Dr. Jalil Tafawa Balewa and President Goodluck Jonathan, had collected theirs on October 30th 2014 and November 6th 2014 respectively.
The party expressed surprise that the aspirant opted to go to court instead of taking advantage of the extension, which expires on Friday (today) November 14 to collect her forms.
Stating that the aspirant still has until the close of work today to collect her forms, the PDP said upon failure to do so, it will have no option than to consider her as not being interested in the contest, but out to cause confusion and disaffection in the party.