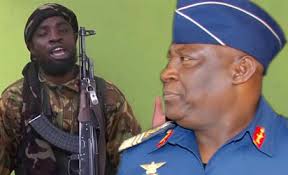 The Chief of Defence Staff, Air Chief Marshal Alex Badeh, on Tuesday said Nigeria was not helpless despite the escalating level of threat posed by the activities of the Boko Haram sect.
He made this known in a brief chat with State House correspondents when he led service chiefs to the Presidential Villa, Abuja.
The correspondents had asked the CDS to react to the loss of his hometown in Adamawa State to the insurgents and the reported burning of his house.
Badeh, who had earlier declined comment, however, changed his mind when he was asked if the nation was helpless in the face of the renewed terrorist onslaught.
"How can Nigeria be helpless?" he asked, adding: "That is unfair. If CDS loses his hometown, it is the same thing as losing Lagos.
"Any part of Nigeria that is lost, the CDS carries the weight.
"It is immaterial whether it is my hometown, whether it is my house that is burnt or it is Emeka's house that is burnt.
"Whoever's house is burnt in Nigeria, the CDS is pained".