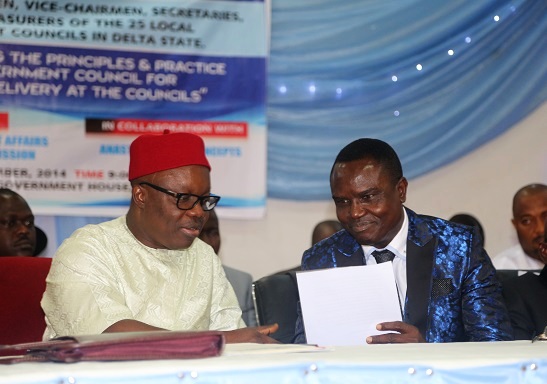 Delta State Governor, Dr. Emmanuel Uduaghan has called for urgent and pragmatic steps that would reposition the Local Government system in the country for effective service delivery at the grassroots level.
Dr. Uduaghan while declaring open a two-day orientation workshop for newly sworn-in Local Government Chairmen, Vice-Chairmen, Secretaries, Heads Of Personnel Management and Treasurers of the Local Government councils in Delta State, expressed faith in the ability of Local Government councils to fulfill their roles if provided with the enabling legal and institutional framework to operate.
According to him, a situation whereby salaries of Local Government staff and primary school teachers gulped more than 60 per cent of revenues accruing to the Local Government, it leaves the councils with little or nothing for developmental purposes.
The Governor emphasized that for the Local Government councils to survive; the Federal Government should remove payment of teachers' salaries from the burden of Local Government councils or increase their revenue allocations from the Federation Account.
He encouraged Local Government councils to engage in revenue drive to shore up their funds, especially with the fall in the price of oil which affected the revenue of the Federation Account, adding that the Delta Beyond Oil initiative of his administration should be imbibed by all the councils to enable them rely less on allocations from the Federal Government.
Dr. Uduaghan explained that the seminar was to prepare the council administrators to face the reality and challenges of governing the third tier of Government and urged the participants to ensure harmonious relationship at the Local Government levels, stressing the need for harmony among elected officials on the one hand and harmony between them and civil servants at the councils.
The Commissioner for Local Government in Delta State, Dr Ben Iweze and the Chairman, Local Government Service Commission, Comrade Olumami Oyibo represented by Mr. Paul Uwechue in their separate remarks expressed the hope that the seminar would give the participants the needed knowledge to discharge their duties and enhance service delivery to the people.
Delta State Government Press Release