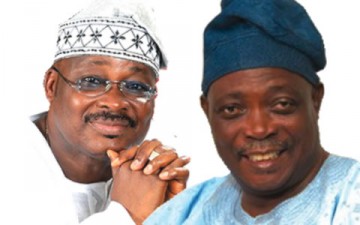 Governor Abiola Ajimobi of Oyo State has dared a former governor of the state, Senator Rashidi Ladoja, to sue him over his claim that he (Ladoja) and others refunded N500m to the state coffers as part of a plea bargain they struck with the Economic and Financial Crimes Commission.
Ladoja had given the governor a seven-day ultimatum within which to retract the claim or face a legal action. The former governor, who also demanded N10bn in damages, also told newsmen that the governor should be prepared to face imminent defeat in next month's election rather than resorting to "cheap blackmail".
Ladoja is the Accord Party governorship candidate in Oyo State.
But Ajimobi insisted on Sunday that the ex-governor and some former officials of the government refunded the N500m through the EFCC.
Ajimobi said, "Let him take us to court. The facts are there. Ladoja and his group returned N500m. If he is saying that he did not do it directly, he did it indirectly. And that is the fact. We are not fools to have published such facts.
"We are ready for him to go to court. I will not apologise to him, rather he should apologise to the people of Oyo State. He should even just give us 48 hours and after that go to court. We are ready to meet him there".