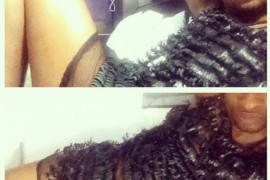 Denrele Edun has being accused too many times of being gay but he has always denied it. However in a recent interview with Punch , Denrele responded to the rumour of being gay in a way that kept us thinking. Is he kicking the closet door open?
Read excerpts from the interview below.
People still argue that you are homosexual?
Denrele: Over time, they have labeled me as a homosexual, heterosexual, bi-s*xual, I have been called all sorts of names. When people see that you are successful in the entertainment industry, they try to peddle some negative stories about you. Maybe they call me names because of the way I dress. When I started out and people began calling me such names, I found it very disturbing, annoying, and demeaning but I laugh about it now. When I am asked about my se*uality, I just tell them that I am a s*xual outlaw. I don't think my se*uality should be an issue because I am doing my work very well.
But are you gay?
All I can say to that is that I am a s*xual outlaw.
Ok did he just admit he was gay by claiming he was a s*xual Outlaw? As if that was not enough to make enough controversy,