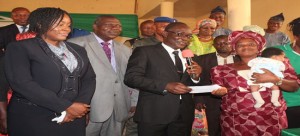 Ekiti State D. Gov., Dr. Olusola (2nd right) giving cash to one of the beneficiaries of the SURE-PMCH Programme, Mrs. Olanipekun at the flag-off of the programme in Ado-Ekiti. With them are; the PS, D.Gov's Office, Mrs. Akindele, the PS, Ministry of Health, Dr. Olomojobi (2nd left) and her counterpart at the HMB, Dr. Aina.
Ekiti State Governor, Dr. Ayodele Fayose has described the President Goodluck Jonathan initiated Subsidy Re-investment Programme (SURE-P) on Maternal Child Health (MCH) as a courageous step taken towards reducing morbidity and mortality among mothers and newborn in the country.
The Governor stated this at the launch of the SURE-PMCH programme for pregnant women and mothers who registered for the scheme in Ado-Ekiti.
Dr. Fayose, who was represented at the launch by the Deputy Governor, Dr. Olubunmi Olusola said that the programme, which was supported by the state and Local Government, was also aimed at discouraging expectant mothers from patronizing quacks and unskilled birth services centre.
He stressed that government, under the conditional cash transfer of the scheme, made available to each registered pregnant women a total sum of N5, 000 from the date of ante-natal registration at designated centres to the post natal care.
Dr. Fayose said that his administration was the first to partner with the Federal government in the country for the take-off of the programme.
He called on women of child-bearing age in the state to embrace the programme by registering at designated centres for their safety and that of the unborn babies.
In her welcome address, the Permanent Secretary, Ministry of Health, Dr Folake Olomojobi said the progrmme would facilitate immense reduction in maternal and child morbidity and mortality which has bedevil the health sector and will eventually bring overall improvement in the state's health indices.
Dr. Olomojobi emphasized that the programme was also designed to build on the Midwives Service Scheme (MSS) that was intended to fast track the progress towards the attainment of the Millennium Development goals 4 and 5 of the Federal government.
She said this also included the recruitment, deployment and training of health workers in all the 24 SURE-PMCH supported facilities in Ekiti State.
Some of the beneficiaries of the programme commended both the Federal and state government for the gesture, with an assurance to make good use of the opportunity.
Ekiti State Government Press Release