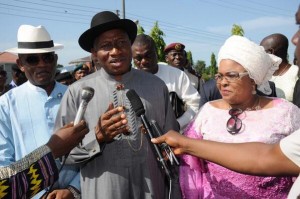 The All Progressives Congress Presidential Campaign Organisation (APCPCO) has called President Goodluck Jonathan to call his wife, Dame Patience Jonathan, to order.
The APC Campaign, which made the call in a statement signed by its Director of Media and Publicity, Garba Shehu, released on Wednesday praised Nigerians for accommodating the "incredibly crude woman."
This came in reaction to a comment credited to Mrs. Jonathan, where she allegedly described the presidential candidate of th eAPC, General Muhammadu Buhari, as "brain-dead". Apart from being very insulting, the organisation said the comment was not befitting for the office Mrs Jonathan holds. It added that it was discourteous and inexcusable for a decent wife of any president to make such a false and infantile pronouncement about the health status of another man on account of politics.
The statement by the APCPCO noted that several Nigerians were not taken by surprise by Mrs. Jonathan's recent incredulous pronouncements as she was in the habit of saying such things. However, it is important for the president to caution her in the spirit of the Abuja Peace Accord.
The organisation said it observed that Mrs Jonathan's disgraceful outbursts were in attempt to pull the wool over the eyes of Nigerians about her husband's incompetence to lead the country.