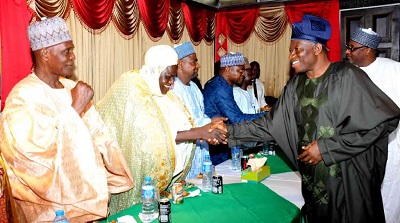 Hundreds of Arewa leaders, who received Kano State Governor, Dr. Rabiu Kwankwaso, in Lagos on Sunday, revealed that they rejected hundreds of thousands of dollars, which was allegedly offered to them by President Goodluck Jonathan during his visit two weeks ago to the state.
The leaders, who were drawn from the 20 Local Government Areas and 37 Local Council Development Areas of the state, also distanced themselves from the purported endorsement of the president by the group.
Speaking during a meeting at the Bourdillon, Ikoyi residence of a former Governor of Lagos State and national leader of All Progressives Congress, APC, Asiwaju Bola Tinubu, the Chairman, Arewa Community in Lagos, Alhaji Sani Kabiru, said those that endorsed Jonathan were impostors.
According to him, on the day of the said endorsement, some people bought turbans at Agege and went to visit the president at the State House, Marina, posing as 'emirs' only to deceive the President.
He said, "When President Jonathan came to Lagos with dollars, some of us here quickly went back and gathered ourselves and started calling our own not to go to visit Jonathan. I also commend some leaders here for leading an offensive and convinced people not to go there.
"Most of the Arewa leaders and 'serikis' did not even go there to collect the dollars. At that event, card-carrying members of the Peoples Democratic Party bought turbans at the Central Market around Moshalashi Bus Stop, Agege. The person that sold the turbans told me that they dressed up as emirs and they were on their way to Jonathan's place.
"So, most of them were fake. They went to collect dollars but cannot tell anyone because they are in hiding. But we did not stop at that; those that we knew that went, we called them to order and asked them why they went but they said they only collected dollars but they would not vote Jonathan".
Kabiru added that virtually all Arewa members had collected their Permanent Voter Cards and promised to ensure one million votes for the APC presidential candidate, Maj. Gen. Muhammadu Buhari (retd.); and the state's governorship candidate, Mr. Akinwunmi Ambode.
While fielding questions from journalists, Gov. Kwankwaso berated his Ekiti State conterpart, Ayodele Fayose, for what he termed, "inciting comments".
According to Kwankwaso, Fayose's comments against the North were a reflection of Jonathan's temperament. He, however, urged the people to express their choice at the polls on March 28.
He said, "When I did my National Youth Service Corps in Ogun State, I imbibed the belief that this part of the country has people that are positively cultured ranging from Obafemi Awolowo, Ernest Shonekan, MKO Abiola, Asiwaju Bola Tinubu, Olusegun Obasanjo and others".