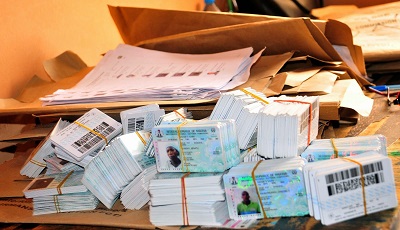 The Independent National Electoral Commission in Abia has advised residents who were unable to locate their Permanent Voters Cards to wait until after the elections to continue the search.
The INEC Public Relations Officer in the state, Edwin Enabor, said this in Umuahia on Wednesday.
He said nothing could be done at this time as the time set for PVC collection had expired.
Some residents had complained that they could not find their PVCs where they had registered or where they had been directed to go and search for them.
Some of the residents who spoke in Aba, the state capital, expressed their displeasure at the disenfranchisement.
A resident of Umuoba Road in Aba, Love Obi, said that she had registered at GTC, Aba, and had gone there up to three times to retrieve her card without success.
"I went first last year and I did not see my voter card where I registered. Then towards the end of 2014, I went again and was asked to return after three months.
"When I went after three months which was January 2015, they told me to go search for my card at Aba North Local government headquarters; but all the searches yielded no results as I was told that my card could not be seen.
"I went to both GTC and Aba North LGA headquarters but my voter card was not found. Why should I be disenfranchised by a problem I did not create even when I want to vote?" She asked.
A tailor formerly residing at Omuma Road, David Okeugo, said that in 2014 when people were asked to collect their PVCs, he went to Asaa-Okpuaja Hall, where he had registered but could not trace his card.
"I have gone there and they told me to go to Aba North local government headquarters.
"At the local government, I was also told to go to Tower but at Tower, they said it was not there, then I went to Okigwe Road Primary School by Faulks as I was directed and it was not found".
Mr. Okeugo expressed regret that he took time off work to register and at the end of the day, would not be able to vote.
Another resident, Ndukwe Ogbaa, a driver, who also could not locate his card, said INEC had deprived him of his right to decide Nigeria's leaders in the coming election.
(NAN)